The Circle3 Goal Setting Journal {Yellow}
Sale price Price £21.00 Regular price
Tax included.
We have thought of everything you will need to make your dreams and goals a reality. From to-do lists, shopping lists, positive habit tracking and even colouring in! All in one beautiful A5 planner that is small enough to take everywhere. 
The Circle3 Planner features:
3 Monthly Overviews to see your schedule at a glance
13 Weekly pages to plan each week with space for notes and meal plans
91 daily pages to plan your 13 weeks down to 30-minute time slots including space for positive daily reflections and lessons learned
The Master List to brain dump, prioritise and execute your tasks
Empty Lists for shopping or to-do's
A weekly colouring in page to increase productivity, stimulate creativity and reduce stress
Blank Pages for projects and notes
Weekly Habit Trackers to keep you motivated
2 Ribbons to keep your place on your current day and weekly overview
Motivational Quotes to keep you inspired
What's inside?
Each week is spread over 2 pages, there is space to set your top priorities for the week ahead and a list for people you need to get in touch with, and places you want to go. The weekly tracker will keep you focused on your healthy habits and there is plenty of space for notes.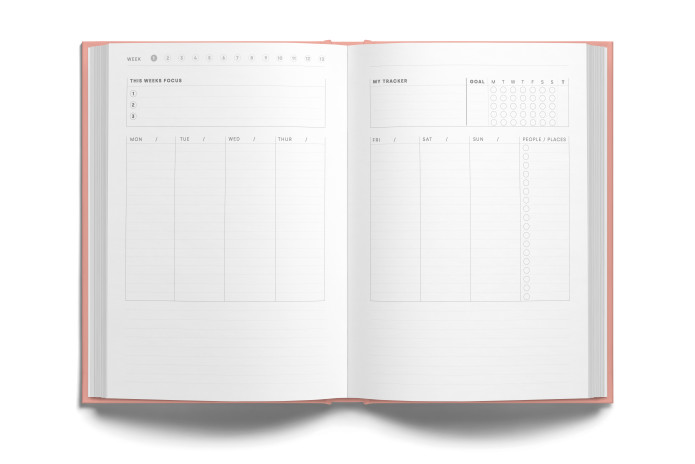 The powerful daily page has time slots from 6am-midnight allowing you to plan your days in detail and see the blank areas you have time to work on your goals or tick something off the to do list. List your top targets for the day and use the motivational quote to inspire you.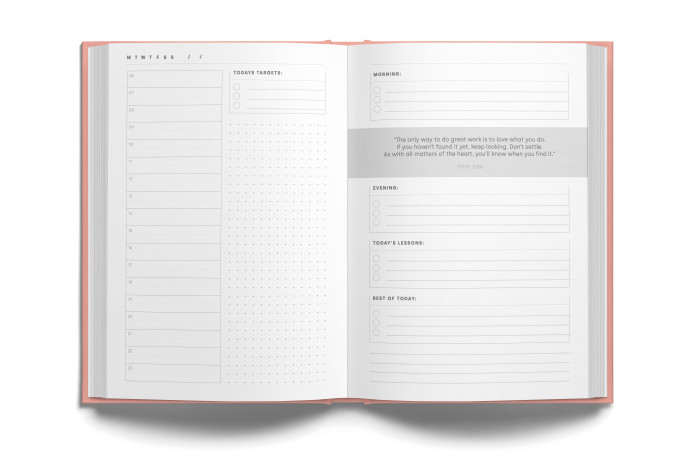 Customer Reviews
11/12/2019
Anna H.
United Kingdom
I recommend this product
Fantastic aide to getting sh*t done!
I'm actually really looking forward to starting my second Circle3 planner - I'm only on day 2 but I can already see that this will be an invaluable tool for me and that it will only get better as I gain experience and work out how best to use it for me. There's a great balance of guidance and flexibility, it's very high quality in terms of materials. And looks fabulous. Absolutely no regrets buying this planner, thanks so much!
11/02/2019
Joanne L.
United Kingdom
I recommend this product
Brilliant, flexible journal - buy one!
Finally I've found a journal I don't stop using after a few weeks! The layout is clear, and adaptable to whatever goals you might want to focus on. You start by setting a goal (there's room for three), and breaking down how you'll work towards it for the next three months. Then you move to the monthly spreads - I find this most useful for noting appointments/social things that I have to be aware of. It's undated so you can pick any three months of the year, and start any time! The weekly spread is over two pages, which is right for a good overview of things (though I use this page mostly for meal planning now). I *love* the little habit tracker at the top, and the week counter that lets you see at a glance how many weeks you've done. Finally you have a brilliant two page daily spread - there's an hourly breakdown, which has helped me see that I have more time than I think, space for lists and notes, and spaces for reflection (gratitudes/affirmations), which I'm finding more useful as time goes on. As for quality, it's great. I use fountain pens, and the paper is smooth and thick, and there is no ink bleeding. It's also stitch bound, which means that it can open out flat and the pages stay put. The cover is a nice tactile cloth, and I love the yellow. I've been using it for almost six weeks now and it still looks great. The only tweak I'd make would be to put the colouring/list before the weekly spread, because this makes more sense to me in terms on narrowing down my focus into the week, but this hasn't stopped me from ordering two more! Love it!
11/01/2019
Sophie B.
United Kingdom
I recommend this product
Love love love
I am so happy with this planner! I have tried so many different diary's and planners but never found one that works for me but this is by far the best I've seen! The layout is fantastic and you can do so much and the fact you get stickers to use! Communication regarding my delivery was good and my package was in perfect condition when received as well as a little message from the company which was a lovely touch! I will be (and have been) recommending this to all my friends. Thank you so much!!